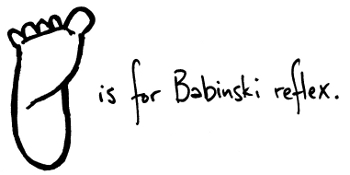 Did you know that you can tickle a person's foot and find out if they have damage in the nerve pathways connecting their brain to their spinal cord? Well you caaaaaaaaaaan!
Rubbing your finger along an adult's foot from the heel towards the toes SHOULD make their toes curve in. Unless, that is, they've got some sort of disease of the spinal cord and brain. In that case the market toe will curve up while home, roast beef, none, and whee whee whee all fan out. This is the Babinski reflex!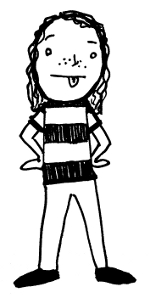 That is actually what a baby's foot will do in the same situation, but this is normal. Nothing to worry about. The Babinski reflex is normal for babies until they are about two years old because their nervous system is still developing. So, normal for babies, abnormal for adults.
Now you can tickle your honey's foot and when she squeals and says "CUT IT OUT" you can be like, "Babe! I'm just checking to make sure you don't got spinal diseases! Babe! Baaaaaaabe! This is for your own goooooood!" Knowledge is power!
Supposedly if you tickle a person's foot after they are asleep or after they've been walking for a long time they'll demonstrate the Babinski reflex even if they don't got spinal disease. This is *neat* and we should all try it out as soon as possible.
Note: The Babinski reflex is not to be confused with the babe-inski reflex which is when people see Mallory and begin uncontrollably whistling. Also their eye balls stretch out of their sockets and they make an AOOOOOGA noise and their heart pounds out from their chest and also they turn into cartoon wolves.